I'm Too Old For This Shit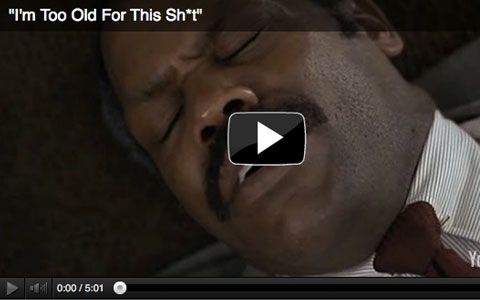 Haha, so edel! Bin gerade über diesen "Supercut" gestossen, wo ein Film Fanatiker aus allen möglichen Filmen den Satz "I'm Too Old For This Shit" herausgeschnitten und in einen Clip gepackt hat! Legendär! Gar nicht gewusst, dass der Spruch echt dermassen abgedroschen in Hollywood ist

Kam zb in Lethal Weapon, Unleashed, Frankie and Johnny, Robin Hood, Transformers: Revenge of the Fallen, Maverick und und und vor.. den ganzen Clip kann man sich hier ansehen!
Für mich bleibt der Spruch mit nur einem Film verbunden: Lethal Weapon!

Roger Murtaugh is too old for this shit Haha.. so geil! wird eh Zeit, sich Lethal Weapon auf DVD anzuschauen!